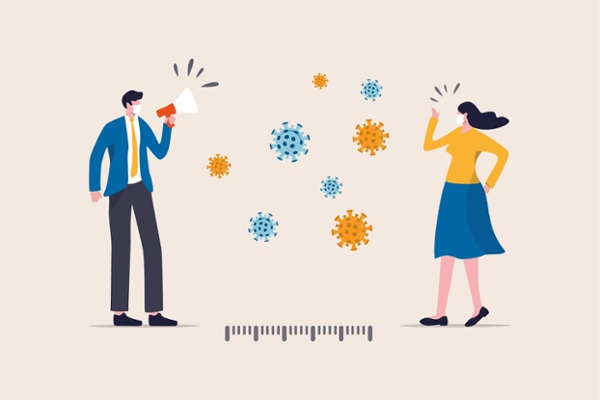 Let's face it, we're now living in a new reality that many of us will have a hard time adjusting to regardless of how long we're on quasi-quarantine. We spend more time sifting through the news, talking/texting/emailing friends and family, and binging on streaming media. In essence, our lives are being managed by the Four Ns: News, Netflix, and Nobody Near.
But if this is the New Normal, we are fundamentally missing out on the key ingredients to obtaining and sustaining Quality of Life: Strong relationships and strong connections to your community.
Now, many of us feel that we already have these in place through family, friendship, work, and community ties, but in today's paradigm, that's only part of the equation. We need to expand outward our spheres of influence and connect to others around the world in order to connect people throughout the world while building a global community.
We have One Planet and One People on this planet. As the virus has shown us all too well, we have one giant ecosystem and we are all connected. And if we don't start acting like it, the world will be a tremendously different place for billions of people, and not in a positive way.
And even as we are locking down borders, states, cities, neighborhoods, and homes, this will pass. But in the future, we have many more threats on the horizon: Climate Change, Pollution, Overpopulation, War, Terrorism and other Pandemics. And the Tipping Points for these are not 20, 30, 40 years in the future. They are now.
And the time to Act is Now. So, as you do your 4 Ns, make sure you add-in something else to your daily activities: Planned Acts of Kindness that you (and others) do with your friends, family, co-workers and in your global community.
Let's build the world we want to see: One where there is Quality of Life for all free from the threats that would divide and conquer us. We'll all in this together: #OnePlanetOnePeople #PlannedActs #TheKarmaClub
Important Notes: 
Be the Hero: Volunteers around the world are wanted and needed in virtually every field. Please reach out through PlannedActs.Org or through LinkedIn. Thank you.
Ideas Welcome: Do you have an idea for a Daily Planned Acts of Kindness that people can do for others while they're confined in their homes? Is this something that almost anyone can easily do from around the world without spending money? Think you've got a winner? Submit it through PlannedActs.Org and if selected, we'll publish it to the world. And we may have you do a video recording that can be shared through Social Media on the day that your PAK is posted.
Lyle Benjamin is an author/educator/social entrepreneur, and the Founder of the non-profit organization Planned Acts of Kindness and the One Planet One People Movement. Planned Acts' programs of clubs, books, workshops, courses, events, games, apps and activities are aligned with the United Nation's 17 Sustainable Development Goals (SDGs).